GETTING FIGHTS RIGHT
With Tex Thompson
Getting your protagonist into trouble is easy. But once they've wandered down that back alley, gotten into that bar fight, or been grabbed at gunpoint… then what?
Join our good friend, notorious literary ruckus-raiser Tex Thompson and world champion martial artists Alex and Allison Campolo as they show us what movies, TV and most books get wrong about physical combat, and how you can get it wonderfully, painfully, page-turningly right. Bring your camera and all your burning questions!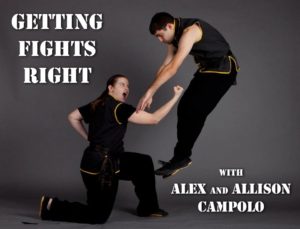 You can follow Tex on Facebook and on her website thetexfiles.com
Please come early for coffee and to meet and chat with other writers before the program. Then stay after the program to practice your characters' great new moves!
7PM, St Andrew's Methodist Church, 722 Robinhood Place, San Antonio, TX, 78209
*The program with Stewart Smith originally scheduled for August will now be presented September 6. Add it to your calendar now!